Wound Care Reimagined with Technology
InteliWound Permits Staff to Manage Wounds; Rather Than the Wounds Managing Staff
Accurate Digital Measurements
Wound Assessments in Less Than 5 Minutes
Instantly Transmit for Wound Physician Review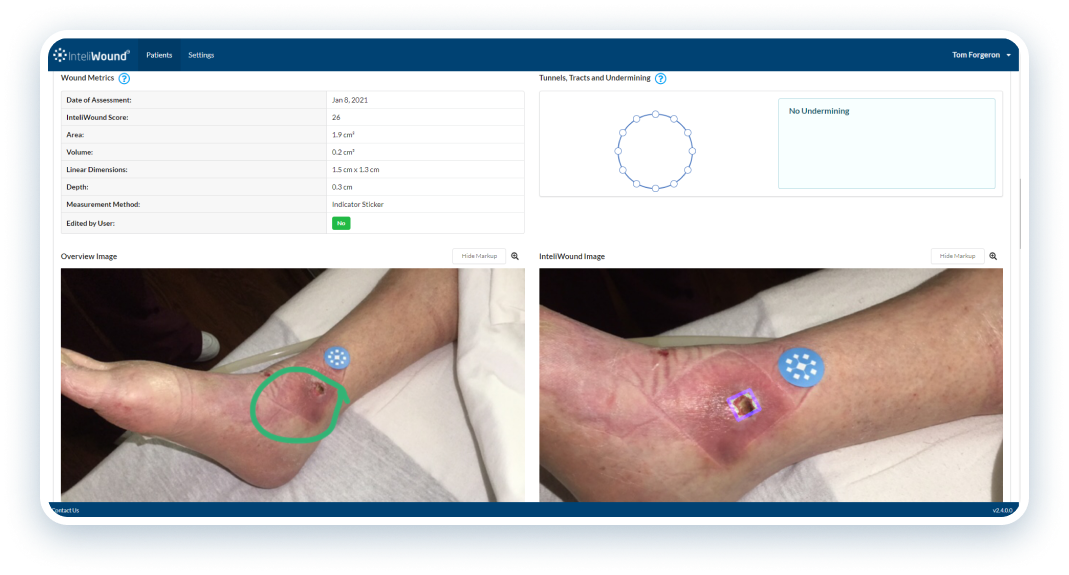 Wound Physician Reviews On-Line
Physician Verifies Etiology, Anatomic Location, and Assessment for Accuracy
Care Plan Returned Within 24-Hours
Electronic
Health Records
• Telehealth Encounters sent to Medical Records Via HIPAA Compliant Pathway
• Progress Notes Directly Uploaded to the EHR
• Pharmacy and Diagnostic Test Orders Entered by Physician to EHR
- What devices currently support the mobile application?
Currently InteliWound is available on the App Store for 5th generation (or newer) iPads. iPhone and Android coming early 2021.
- How does the bedside clinician complete an assessment?
It's a simple process: Login, select your patient, start a new wound assessment (or reassess an existing wound), complete the guided steps for photography and measurement, answer the assessments questions, then log the visit. It usually takes between 3-5 minutes per wound to complete an InteliWound assessment.
- Does InteliWound work only with Wi-Fi or Broadband?
No, InteliWound can be used with or without Wi-Fi. In the case where there is no Wi-Fi or broadband signal, the user may complete an assessment, then connect to Wi-Fi or broadband at a later time to transmit the data to the cloud.
- Is InteliWound Cloud-based?
- Our staff might not be comfortable with technology. Is this the right platform for us?
Our training and customer service teams are dedicated to your success. We will be as hands on as your staff requires.